Closets & Storage Solutions
The Final Touch Design is a full-service closet design center in Panama City Beach, Florida. We create closets that work, closets that solve the simple task of organizing all of life's stuff while maximizing space and increasing the enjoyment of use. Any closet. Any Size. Any Desire. Our professional closet design team is ready to utilize your unique closet ideas into an actual finished closet in your home or office. We love creating the best designs for a pantry, coat closets, laundry rooms, mud rooms, hall closets, and much more. These spaces are important elements to the harmony of your normal routines.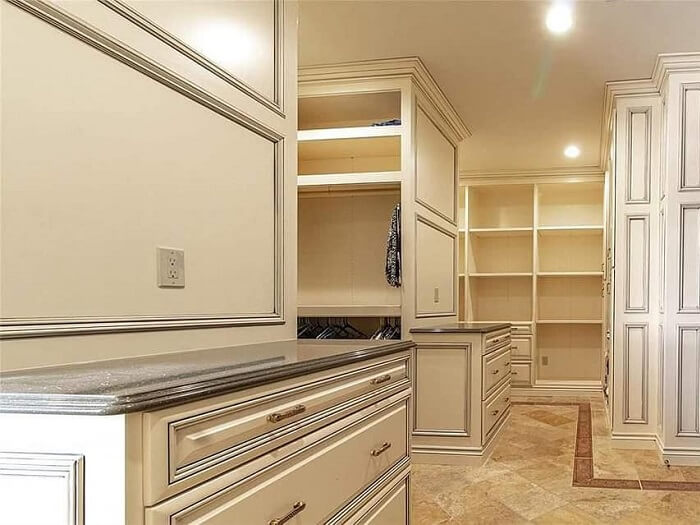 ---
Creating Closets That Transform
Our professional design team are experts at creating closets that transform your spaces for optimal balance in form and function. With our proven process, the TFTD Design Flow, we are certain of the satisfactory results we can provide to you since we've done so hundreds of times already. It's what we are passionate about and why we are presenting this information to you today. We want to be passionate about your closets and create your dream with you. The Final Touch Design is here to help you design the perfect closet solution for your home or office. A new Closet will enhance your property and bring more enjoyment, too.
A Space with A Place for Everything Stored
We think a building in harmony is a space with a place for everything stored when not being used. Rooms make sense and the beauty of your décor shines bright when closets are strategically-designed to contain the activities and usage by you and your family and guests. No matter the size of space or if it is residential or commercial building, the closets are an important part of the infrastructure and how the building was engineered to function. Your closets are likely long overdue for an overhaul.
Your closet space could be hiding something powerful enough to fuel a side business or new craft project. A modern closet by The Final Touch Design can include expandable work spaces to allow a dual-purpose use to your old boring closet. Now that is powerful and it all possible with a smartly-designed closet by our professional closet design team.
The Final Touch Design would be pleased to discuss your closet ideas and provide a proper storage solution. We know we can save you time and money on the perfect finished closet of your dreams. Let's create your dream closet and power your success today.